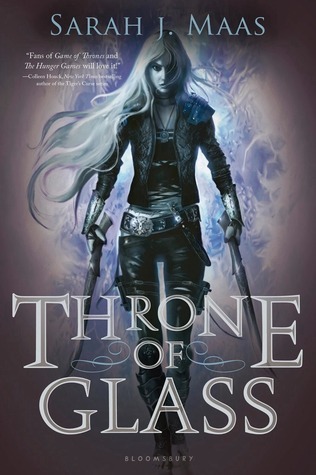 Throne of Glass
by Sarah J. Mass is the first YA book I've read in quite some time. I have been wandering the world of New Adult for almost two years now, but when Throne of Glass kept a coming up on my twitter news feed, I figured it was time to take a break from NA and return to my roots.
This book is about three years old now, but for people who live YA this is a fantastical story that is
Game of Thrones
meets
Hunger Games.
Throne of Glass
tells the story of Celaena. A trained assassin who has been imprisoned for the last year. But she's getting a chance at freedom, as long as she wins a competition to become an assassin for the king.
This story is filled with magic, secrets, and conflicted feelings. This book has the classic love triangle, but similar to
Hunger Games
, it's not the most important aspect of the story.
My two complaints about the book are minor in the grand scheme of things. Like
Game of Thrones
,
Throne of Glass
takes place in a world with magic but in a medieval sort of time, and there were a few instances where the dialog felt too modern. There was also a book in the story called
The Walking Dead,
and that was enough to bring the story down for me. It pulled me out of the story and had me wondering if the author were a fan of the comic/TV show, and my biggest pet peeve is being pulled out of the story for something that is easily remedied.
This story takes place in a wonderful world, and I can't wait to read the next one. I also read this book is being made into a TV show, so I plan to finish the series before that starts.