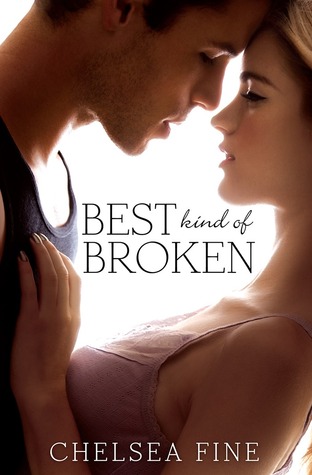 Best Kind of Broken
by
Chelsea Fine
is the first book I've read by this author. She has a slew of
other books
, but
Best Kind of Broken
was on sale and lots of authors were recommending the book on Twitter, so I decided to check it out.
Best Kind of Broken tells the story of Pixie and Levi. They're both working and living at Pixie's aunt's small town inn for the summer. There's plenty of tension between them, sexual and otherwise. They used to be best friends, but tragedy tore them apart, and now they don't know how to exist around each other. We watch their struggle through both of their eyes; each story is heartbreaking.
This story took a bit of time to get into. We don't learn what tragedy tore Levi and Pixie apart for a good amount of the book. We can see that something big and tragic happened between them, but we don't know what it is. I think this was intended to add tension for the reader, and because the characters themselves are so unwilling to discuss the issue. But I thought it really took away from the story to let the reader wonder what was going on. By the time we learn their secret, I think the reader can figure out most of the details. I just wish we would have known sooner. But I really loved the characters, which is why I really kept reading. Both Pixie and Levi were believable and likeable characters.
The next books in the Finding Fate series have some great reviews; I'm really excited to read the rest of the series. Even though
Best Kind of Broken
starts out a bit slow, I would say give it a try. There's a good story waiting at the end, and it's a
series
, so there's more to read. Let me know what you think!