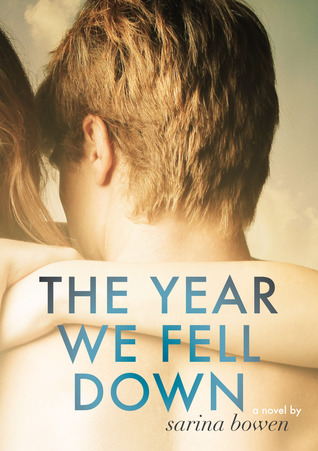 The Year We Fell Down
by Sarina Bowen is the first book I've read by this author. I found out about it like I do with a lot of books, through BookBub.
The Year We Fell Down
tells the story of Corey and Hartley. Corey had an accident before starting college that caused a spinal injury and paralysis, crushing her dreams of playing hockey. Hartley is healing from an accident that's keeping him from hockey, too, but only for the season. We watch as Corey tries to reconcile who is is after the accident, and, of course, we watch Corey and Hartley fall for each other.
I enjoyed reading a new adult book where the characters had real life difficulties. So often, the stories biggest problems are about getting the characters together, and I was happy to read a book that was about something bigger. Corey was a great character because she was so strong, stubborn, and vulnerable all at the same time. And we got to see her deal with her injury, college, and love life in a way that was quite endearing.
I'm looking forward to reading more books by Sarina Bowen, and, hopefully, more books in this series.