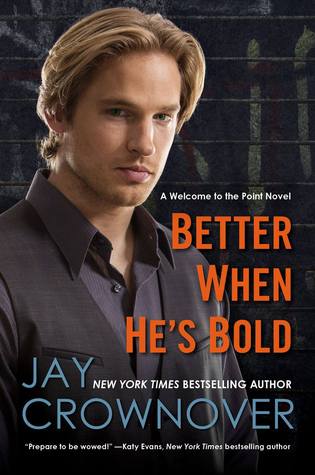 Better When He's Bold
is the second book in Jay Crownover's Welcome to the Point series. I surprised myself by loving
Better When He's Bad
, and I think I liked this story even more.
Better When He's Bold
tells the story of Race, whom we met in book one (read it if you haven't already) and Brysen. Race likes the challenge Brysen presents. She gives him the cold shoulder and the impression that she hates the ground Race walks on. Brysen is ridiculously attracted to Race, but has her family to worry about and doesn't want to get involved with a criminal.
But when someone seems to have set their sights on hurting Brysen, she doesn't know who else can help protect her except Race. They need to find out who is coming after her before it's too late.
This was an amazing story. I don't know exactly how Jay Crownover can convince me to fall in love with these seriously bad guys, who are literally criminals. But she has a way of making them human. They aren't just looking out for themselves; they are trying to change a world that eats people alive by making it a little more livable, just not in a legal way.
The chemistry between Race and Brysen was palpable and their story was really awesome. I loved getting to know Race better and learning about Brysen.
If you haven't already, you need to read all of Jay Crownover's books. This one was especially great! Have you read it? What did you think?