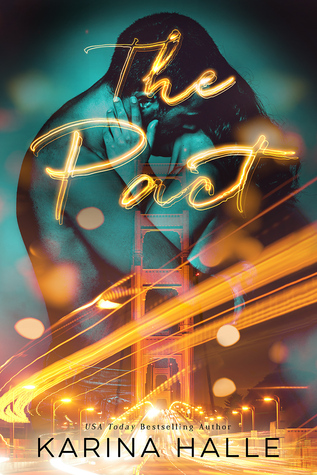 The Pact
by Karina Halle is the second book I've read by this author. I read one of her books before (
Sins and Needles
), and I decided to give her another shot since I didn't really enjoy the first book.
The Pact
tells the story of Stephanie and Linden. In their twenties, they make a pact to marry each other if neither of them is married or in a serious relationship by the time they're thirty.
We see the two go through various relationships through their twenties and eventually come together. But things aren't easy once they do.
First, I should say I listened to the audiobook, and while the author may not have had much say, the voice of Stephanie's POV was not great. Her Scottish accent was awful when she was speaking as Linden. That has absolutely nothing to with the story, but I thought I would let all the audiobook listeners know.
Focusing on the actual story, for me it was just meh. I didn't really feel any kind of connection to the characters, and the actual story was a bit predictable. I'm not sure I'll be reading any more books by Karina Halle in the future. Thoughts?
I should point out that for
some reason, I thought this would be a new adult book, but it was most definitely contemporary, which I tend to not be a huge fan of. I'm not sure if it was marketed as new adult or contemporary, but I thought it was new adult. And while on that topic, I think some books are marked as new adult if the characters are angsty, start out young, or they're trying to figure out their lives. But a this book in particular, ending when they characters where in their thirties (and not just as an epilogue). And a thirty year old can still be trying to figure out their lives (aren't we all), but new adult should have characters experiencing things for the first time, and actually being new to adulthood. This is not a critique of this book, but on how books are sometimes marketed (again, I'm not sure if this one actually said it was new adult or if I just thought it was).