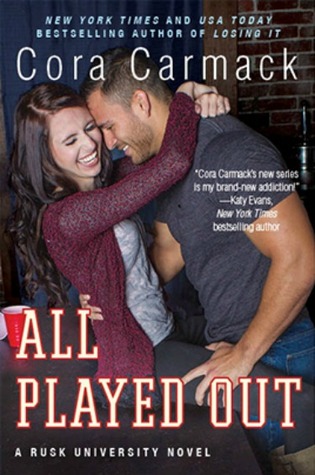 All Played Out by Cora Carmack was another great book in the Rusk University series. This is book three is the series, and if you liked the others, then you will enjoy this one too
All Played Out is the story of Nell and Mateo. We have met both before in previous books, and I was especially excited for this story because I had love Mateo. And getting to know Nell was great.
Nell is extremely focused on school, so much so that she is graduating college a year and a half early. In an effort to make up for all the normal college experiences she missed out on while studying, she makes a list of all the normal college things she wants to do in her last semester. Mateo is drawn to to her, and when he finds out about the list, he wants nothing more than to help her check everything off it.
The two come together with a bang, but they are both dealing with hang up a from their pasts. We get to see how they handle their insecurities which may just tear them apart.
If you've read the other books in this series, you should definitely check this one out. I think it has been my favorite so far! It was also really great to have a new adult book with a diverse main character (Mateo). There were not issues concerning his being Mexican, but I think that can be important.