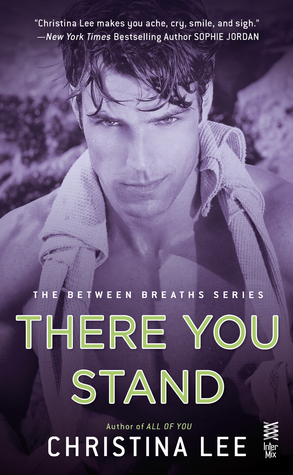 There You Stand
by Christina Lee
is the 5th book in the Between Breaths series, and in this story we get to know tattoo artist Cory better, and we meet the mysterious Jude. This is a M/M book, so if you're not ready to read that then this book is not for you.
We met Cory in previous books since he works at RawInk, but Jude is new to us, and he's a mystery to Cory. Cory doesn't think Jude could ever be interested in him, and he's had his heart broken before. But it turns out Jude likes Cory, but Jude has to keep so much of himself hidden, that Cory's not sure if Jude is worth all the work he has to put in.
We watch Jude open up to Cory, and we see Cory deal with the horrible details of Jude's past.
I really enjoyed getting to know these two characters. But I didn't feel much of a connection to either one of them. I'm not sure why, but there was something missing for me. More tension, maybe?
But the story was beautifully written, and I love a good story whether I feel the connection or not. I can't wait to read more of the series.