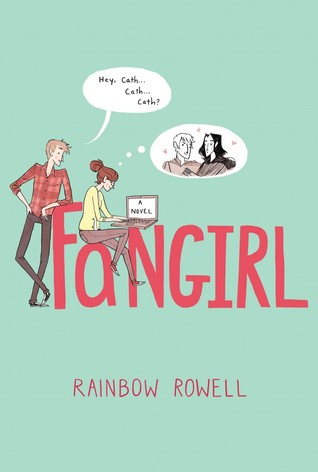 Fangirl
by Rainbow Rowell is a book that has been on my radar for some time now. How could it not be with the success of
Eleanor & Park
? Someone finally said I had to read it, so I did.
Fangirl
tells the story of Cath. She's starting her freshman year of college with her twin sister Wren, but they are separating for the first time. Living in different dorms. Taking different classes. Making different friends.
Cath is also an award winning fanfic author. She loves all things Simon Snow (a Harry Potter like story). And, of course, she meets a boy, two boys, and she tries to work through her feelings for both of them during the story.
There are so many different things going on during
Fangirl
other than first love and all the drama that comes along with it. There are family problems, mental issues, and all the things that come along with being an introvert going to college.
I loved the way this story dealt with so many different things. It can sometimes be monotonous reading stories that are just about first love. But this story talked about writing, creativity, and being part of a fandom, about being dedicated to a particular fandom. I thought that was a great part of the story; it felt more like real life.
My only real qualm is it took me a while to get into this story. The Simon Snow parts of the story were so reminiscent of Harry Potter that I often felt pulled out of the story finding the similarities. But once I got used to the oddities of the Simon Snow story, I couldn't put the book down. It wasn't your usual love triangle story, and I was glad for something different.
On a side note, I wish this book was not considered YA. The material is almost too mature for YA, but I think a publisher wouldn't want to put it in NA due to lack of sex scenes. Not every NA has sex scenes, and this story was a college, coming of age story. If you like them both, this book has some of the innocence of YA with the emotional depth of NA.
Which category do you think this book should be in? Do you think it matters?