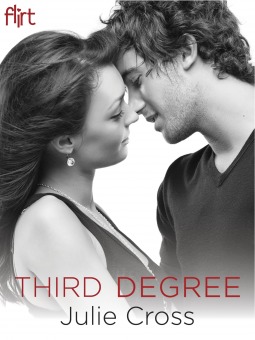 Third Degree
by
Julie Cross
is a book I bought quite some time ago. I thought the premise sounded intriguing, but I kept putting off reading it. I was an RA in college, and I thought it would get the ways that worked wrong, and I thought the story about a prodigy going back to do college the "normal" way could come off weird. But I was completely wrong about everything.
Third Degree tells Isabel's story. She is a child prodigy, doctor at 19, but she can't practice on her own due to some unforeseen circumstances on her part. So she goes back to college (undergrad) to experience the things she missed out on the first time around. She meets Marshall, her kind of off limits RA, who tries to help her gain all the experiences she didn't have. And of course, they fall for each other.
There are many things I would like to say about this book that I can't because that would mean spoilers. But I'm not sure I have ever read a book like it before. It showed people that I could have known in college dealing with real problems (like disease, written in a way that is very real to the situation). And even though Isabel is a prodigy, she still deals with the emotions so many of us do when we leave home for the first time, fall in love, and go through family issues.
Julie Cross did a great job of taking an extraordinary girl , and showing how there are so many things that make her ordinary.
Third Degree is a must read. I am going to find more books by Julie Cross to read now. There are lots!