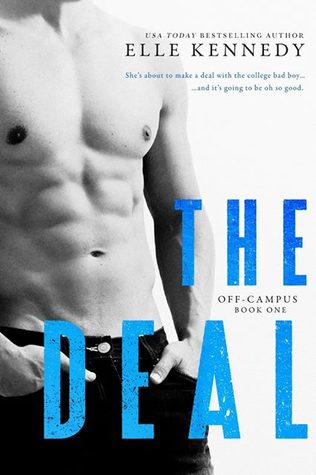 The Deal by Elle Kennedy is the first book I've read by this author. I am on some kind of sports kick. Three sport books in a row. And this one was awesome.
The Deal tells the story of Hannah, a music major looking to finally talk to her crush and Garrett, a hockey player who desperately need a tutor so he can stay on the team. Hannah agrees to tutor Garrett if he can get her crush to give her the time of day. Garrett's plan works, but they Hannah and Garrett fall for each other in the process.We watch as they deal with all the issues of hooking up, dating, school, and family.
Initially, I did not like the story, but about 4 chapters in, after getting used to the dialogue and writing style, I was hooked. I enjoyed how feisty Hannah could be, but she was also shy and reserved. She was a very round character. And I loved that Garrett was a smart jock who was extremely sarcastic and a bit vulgar.
I will definitely continue reading more books in this series.