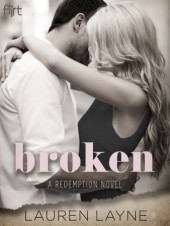 Broken
by
LaurenLayne
is the second book I've read by this author. I loved the first book, and this book was equally great.
Isn't She Lovely
is sort of the book that comes before
Broken
, but you don't really need to have read
Isn't She Lovely
to read
Broken
, but I think it would be helpful.
Broken tells the story of Olivia, who drops out of college right before her senior year. She made a mistake (which you will know about if you read Isn't She Lovely) that she is trying to make up for by taking care of a wounded veteran. Only problem? The veteran, Paul, is her age and she is extremely attracted to him even with his scarred face and soul.
This book had so much to it that had me up all night reading. The chemistry between Paul and Olivia was ridiculously awesome, even though it was something neither of them wants. The story was funny in so many ways, but it was also heartbreaking. I had to keep reading to find out if Paul and Olivia would get their happily ever after together. You'll have to read it to see how that goes for them. But the book was awesome. It would have been 5 ♥s, but we get the story from both points of view, and both characters often thought the same things. I'm not sure if that was to show how similar the characters are, but it felt like maybe there wasn't enough of a separation between who the characters were in some places.
Have you read any books by Lauren Layne? If not, you definitely should. If you have, which was your favorite?